The Rim Lock and Night Latch are perfect for a home. These locks are sturdy and based on the pilfer-proof pin-tubular technology. The lock can be opened with a key from the outside and with a pull lever from the inside of the door, which operates the latch in the rim lock. The rim lock also has a deadbolt for additional security.
When opened from the inside with the knob/lever, the latch remains in the pull back position preventing the user from being locked out in the odd situation of attending to a vendor at the door or being shut out by a strong gust of wind. In the case of the Night Latch, pressing the button releases the latch.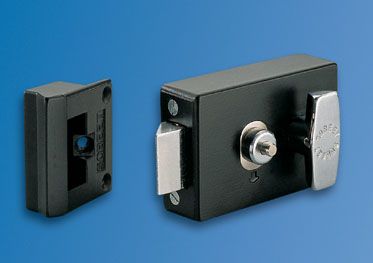 HIGHLIGHTS:
1. Can be fitted on any door with a thickness of 30mm. and more
2. Opened from the outside with a key and with the pull lever/knob from the inside
3. Can be used on both single leaf and double leaf doors with right or left swing
4. SOBEET Locks come with three keys. Keys are difficult to replace but can be duplicated when an original is provided.
This is best done by the manufacturer.
Points to remember when placing your order for your Rim Lock or Night Latch.
Door Specifications  This lock is suitable for a single leaf door or a double leaf door with a left or a right swing.
The thickness of the door should be at least 30mm  
Order Specifications
- When placing your order kindly specify if your door opens inside or outside.