The Panic Exit Device [PED] enables easy and prompt escape in the case of a crisis or emergency.  Its trouble-free, simple-to-operate technique requires you to merely push a bar across the door forcefully, the natural human response in an emergency. This activates and opens the lock on the emergency exit that generally leads you to the fire/emergency escape which is a stipulation/ specification for all modern constructions - residential or business. The PED works seamlessly with the SOBEET Mortise Lock.
The slick design blends with the aesthetics of any door and is suitable for Steel, Wooden and Aluminium Doors.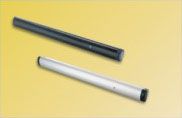 HIGHLIGHTS
1. Can be fitted on doors of any width.
2. Operates on a Mortise Lock.
3. Provides for fireman's keys which can be easily integrated with SOBEET's Master Key Systems.