The Mortise Lock sturdiness depends on two core factors - the lock case and the cylinder. Mortise lock and cylinder choices are made depending on the dimensions of the door as well as application in mind.
Master keying is possible for SOBEET's entire Mortise lock range. It offers tremendous convenience as well as control for the user, since various master-keying combinations are possible.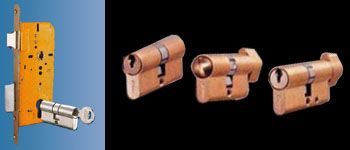 Types of Cylinder:
Double
Single x Turn
Single
Privacy x Turn
Turn
Profile Cylinders  single, double and single x turn are available in lengths starting from 60mm up to 140mm with increments of 10mm.
Cylinders are available in different finishes to match Handles.

MASTER KEYING our Specialization
Why be weighed down with a bunch of keys when one key can do it all? Master- keying is the smart option for a house-holder/administrative head who wishes for effective control. Various keying combinations are possible and SOBEET can build keying solutions to suit YOUR individual needs. Customization is our hallmark.
Prototype Master Key Plan for a Two-Bedroom Apartment: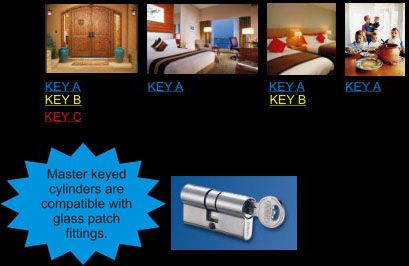 Three-Key Plan
1. Master
Key A
opens main door, master
bedroom, children's bedroom and kitchen.
2. Children's Key or Guest
Key B
opens main
door & children's bedroom.
3. Domestic's
Key C
opens main door only.
Prototype Master Key Plan for an Office:
1. Individual Key for cabin doors
2. Common Key for meeting rooms, pantry doors,
cafeteria doors, washroom entrance
3. Office / Floor Master Key opening all doors