One fine day the good old Pad Lock got dethroned and gave way to a more user-friendly and functional species - The Mortise Lock. Don't let the name befuddle you. Mortise Lock is just the technical word for a lock that most of us take for granted click open and slam shut. The distinctive difference being that it has a latch and a dead lock.
Mortise Locks are used on every kind of door - entrance, bedroom, bathroom, hotel room doors, office cabin doors, you name it! They are suitable for single shutter, double shutter or sliding doors. Mortise Locks are usage specific which is why depending on where they are to be fitted, they combine different features - safety; safety and privacy, etc.

Entrance Door   

Bedroom Door    

Toilet Door    

Balcony Door    

Shaft/Duct Door
If you are looking for an aesthetically sophisticated, high- security lock, then the Mortise Lock is what you need. Apart from the stylish design, the lock case is fitted into the door and so makes the lock extremely durable and sturdy. SOBEET Mortise locks can be master keyed and are widely used in residences, institutions, commercial spaces, office premises and leading hotels all over India.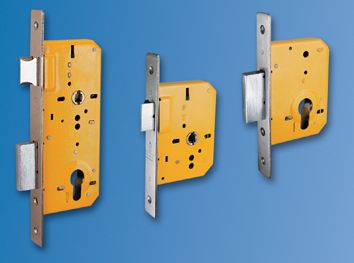 CYLINDERS & MASTER KEYED SYSTEMS:
All Mortise locks can be master keyed. The master keying feature provides greater convenience. In the case of a home each member can have a key to suit their specific need. Just to illustrate - the Children's key will be custom-made to open the main door and their bedroom door; the Maid's key can open the main door, without access to master bedroom and any other room; the Head of the Family will have a key that opens all doors.
Cylinders are available in:
Double - Keyed on both sides, ideal for Main doors.
Single x Turn - Keyed on one side with Thumb-turn on the other, ideal for Bedroom doors. 
Single - Keyed on one side, ideal for Balcony doors.
Privacy x Turn - Thumb-turn on the inside and emergency release on the outside, ideal for Bathroom doors.
Turn -

Deadlocks

are available as additional security locks on any door.
| | | | | | | | |
| --- | --- | --- | --- | --- | --- | --- | --- |
| | | | | | | | |
| | Main Door | | Bedroom Door | | Balcony Door | | Bathroom Door |
HIGHLIGHTS
1. Mortise Locks comprise of a lock case, a knob or lever handle and a cylinder.
2. Keying can be customized as per customer's lifestyle and needs.
3. Different finishes to suit different décors.
4. SOBEET Locks come with three keys. Keys are difficult to replace but can be duplicated when an original is provided.  
This is best done by the manufacturer.
5. Extra keys can be ordered.